Mail-Back Sharps Containers
Multiple Item Numbers – See Ordering Info Tab Below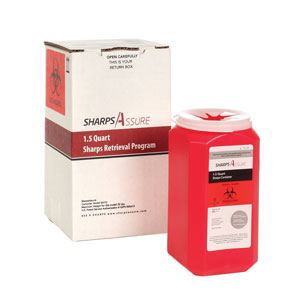 1 Qt Mail-Back Sharps Container with Shipping Box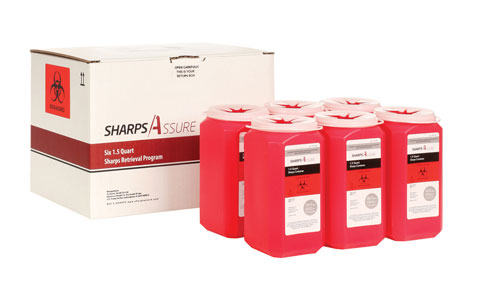 1 Quart Mail-Back Sharps Container Six Pack with Shipping Box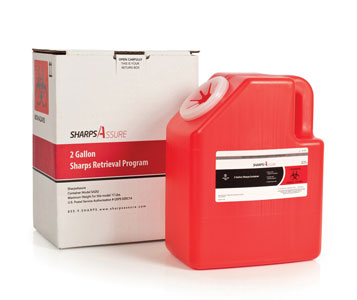 2 Gal Mail-Back Sharps Container with Shipping Box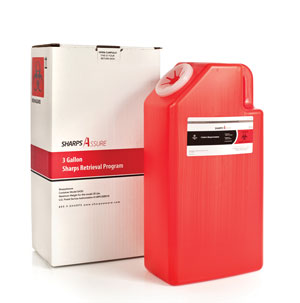 3 Gal Mail-Back Sharps Container with Shipping Box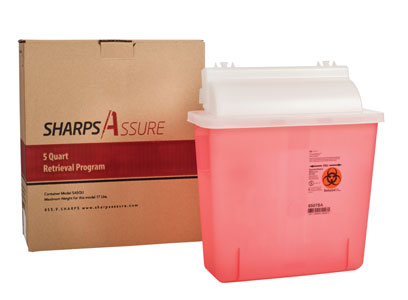 5 quart Mail-Back Sharps Container with Shipping Box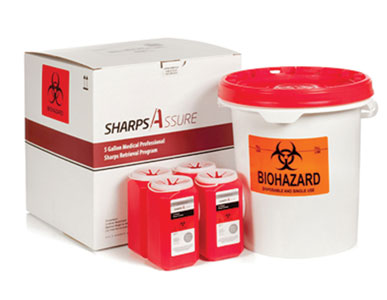 5 Gal Mail-Away Sharps Biohazardous Waste Container
Convenient, compliant disposal of used sharps & biohazard waste
Ideal for facilities with small volume of sharps waste – eliminates the need for medical waste
disposal contracts, which saves money.
Pre-paid mail-back shipping box provides easy, compliant disposal (most are USPS, a few are UPS).
Variety of container sizes to meet small volume usage needs.

OSHA-compliant containers are made of puncture-resistant high density polyethylene, in onepiece construction.

Snap-tight lid prevents leakage during transport and provides permanent closure, once filled.
Includes plastic liner bag(s) and twist tie(s) bag closure, with water-resistant sealing tape to secure the shipping box.
Sharps Containers
1.5 Qt Sharps Container with USPS Mail-Back Shipping Box: SC1Q424A1Q
1.5 Qt Sharps Container 6 Pack with 1 USPS Mail-Back
Shipping Box: SC1Q4241Q6
1.25 Gal Sharps Container with USPS Mail-Back Shipping Box: SC1G42425G
1.25 Gal System: 1 Qt Sharps Container, 1.25 Gal Sharps
Container, and 1 USPS Mail-Back Shipping Box: SC1G4245G1
5 Qt Covidien Translucent Red Sharps Container with
Counterbalanced Lid with UPS Mail-Back Shipping Box: SC5Q4245QU
5 Qt Covidien Translucent Red Sharps Container with
Counterbalanced Lid Double Pack with 1 UPS Mail-Back
Shipping Box: SC5G424QU2
2 Gal Sharps Container with USPS Mail-Back Shipping Box: SC2G424A2G
2 Gal Sharps Container Double Pack with 1 USPS Mail-Back
Shipping Box: SC2G42422G
3 Gal Sharps Container with USPS Mail-Back Shipping Box: SC3G424A3G
Large Volume Biohazardous Waste Containers
5 Gal Sharps Container with USPS Mail-Back Shipping Box: SC5G424A5G
5 Gal System: Four 1.5 Qt Sharps Containers, One 5 Gal Sharps
Container, and 1 USPS Mail-Back Shipping Box: SC5G4245G4
Options Include Following:
1.5 Qt Sharps Container with USPS Mail-Back Shipping Box, 1 ea/bx
1.5 Qt Sharps Container 6 Pack with 1 USPS Mail-Back
Shipping Box, 6 ea/cs
1.25 Gal Sharps Container with USPS Mail-Back Shipping Box, 1 ea/cs
1.25 Gal System: 1 Qt Sharps Container, 1.25 Gal Sharps
Container, and 1 USPS Mail-Back Shipping Box, 1 ea/cs
5 Qt Covidien Translucent Red Sharps Container with
Counterbalanced Lid with UPS Mail-Back Shipping Box, 1 ea/cs
5 Qt Covidien Translucent Red Sharps Container with
Counterbalanced Lid Double Pack with 1 UPS Mail-Back
Shipping Box, 2 ea/cs
2 Gal Sharps Container with USPS Mail-Back Shipping Box, 1 ea/cs
2 Gal Sharps Container Double Pack with 1 USPS Mail-Back
Shipping Box, 2 ea/cs
3 Gal Sharps Container with USPS Mail-Back Shipping Box, 1 ea/cs
5 Gal Sharps Container with USPS Mail-Back Shipping Box, 1 ea/cs
5 Gal System: Four 1.5 Qt Sharps Containers, One 5 Gal Sharps
Container, and 1 USPS Mail-Back Shipping Box, 1 ea/cs